Bonjour!
Just like with my other, travel-related lists I've written on this blog, I'll be doing the same here in this post in terms of listing my favorite French cities and towns that I've visited…so far!
After living abroad for almost two years in this country, I've had plenty of time to visit so many regions and cities, within and outside of where I live. While I haven't seen all that there is to see, I can say that having visited over 80 cities alone is not at all a small amount, let alone a small feat!
That said, I'm here to share with you some of the cities and towns in France which I've really come to enjoy. One big catch, however, is that I'm not going to refer to Paris on this list, just because, well, it's an obvious for almost every tourist out there, especially if it's their first time visiting the country. Not to say that you shouldn't visit it (I say it's worth going at least once in your lifetime), but there's so much more to France besides Paris- for real.
If you have the desire to visit the country one day, perhaps you can use this as a reference, too! And for those who live or have been to France, what were your favorite cities/towns? Let me know!
Without further ado (and in no chronological order), let's begin!
My Top-Ten Favorite Cities in France (not including Paris)
1. Bordeaux. Starting off strong is the city in the famous wine-capital region of France: Bordeaux! When I visited in February 2016, I found it to be such a warm and beautiful city, with elegant, 17th-18th century architecture and a lively student population with bars and restaurants hopping into the night. Two nights there was perfect, as I got lots of sightseeing and partying done…thanks to a bit of wine! 😉
2. Caen. Pronounced "con," this Normandy city is dedicated to William the Conqueror, and much of its history is centered on medieval times, with castles, forts, and abbeys to boot. It's funny, because I found Caen to be beautiful, but my flatmates who've visited didn't enjoy it as much, due to the lack of activities there. True, I'd say that one night is good enough to see everything, but you can't deny that Men's Abbey!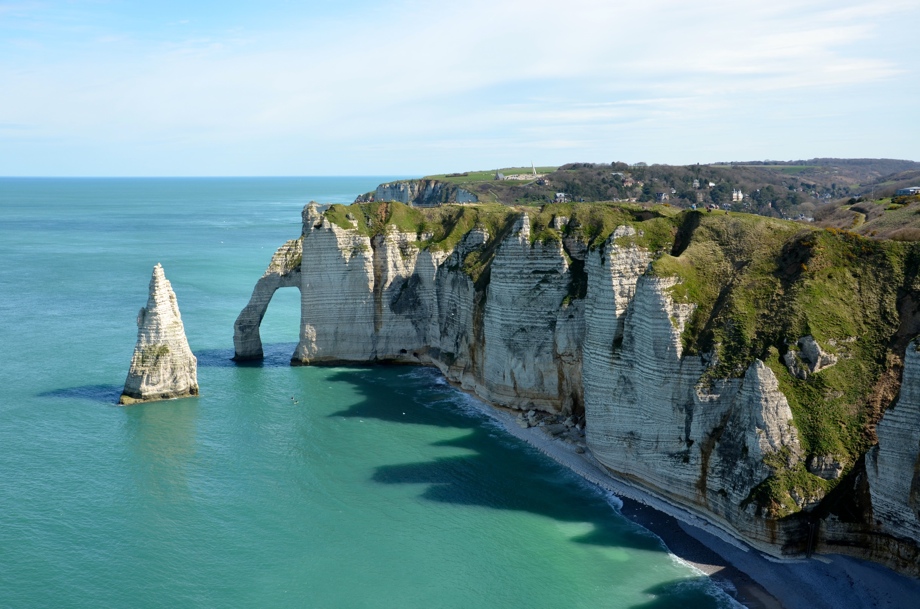 3. Étretat. Probably the smallest town featured on this list, Étretat is a seaside resort along the Normandy coast, which is famous for its limestone cliffs. Tourists from all over make a trip over to check them out, perhaps even hiking on them before going into town to get some traditional, Normandy dishes (albeit overpriced). I've been three times in both warm and freezing weathers, but all the same found it utterly gorgeous.
4. Le Havre. Also along the coast of Normandy is Le Havre, a port city that had been almost completely destroyed during World War II, but has since remodeled itself to become a very modern-looking city. Although the French claim it to be "ugly" in design, I personally find it to be very close to home in Los Angeles, with its wide-paved sidewalks and grid-like street structure. Plus, the beach: why not?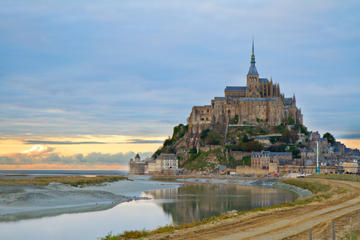 5. Le Mont St. Michel. Next to Étretat, Le Mont St. Michel is another small Normandy town, all of which is situated on the island itself, at a tiny population of 50 or so inhabitants. It's the second most-visited place in France next to Paris, and due to its architecture, there's no reason not to! I've been twice and it remains gorgeous and enigmatic to this day.
6. Lyon. Located towards the southeast of France, Lyon is famous as the gastronomic capital of the country. From the Côte-Rhône wines to the savory charcuterie, this city certainly knows its food! It also blends modern with historical, and every year it hosts the famous fête des Lumières ("Festival of Lights") that draws millions of people for plenty of lights and wonder.
7. Marseille. I was just in this port city in southern France during this past February holidays, and second-time around, I still love it. As the largest city in France (size-wise), Marseille has that Mediterranean climate going for it, with the warm sunshine, beaches, and the famous calanques to call its own. Plus, its bouillabaisse (saffron-infused fish stew) is aromatic and delicious!
8. Pau. Although I was only in Pau ("poh") for maybe three or four hours last year, it was a small, but charming city in the southwest of France, near the border with Spain. Its Boulevard des Pyrénées is iconic, with palm-tree vibes that remind me of Los Angeles (my home). I don't think there's a lot to do there, being a small university town, but all the same, it's pretty!
9. Strasbourg. Famous for its Christmas markets which rival that of Germany's, Strasbourg is the city of the Alsace region, near the border with Germany itself. There's a distinctive Alsatian culture, as well as a French-German blend when it comes to food and architecture. Loved my time there during the holidays, and found it an absolutely-cute place to visit.
10. Toulouse. Finally, this southwest French city located close to the Basque country is full of warmth, in both the weather and the people. Never had I met so many kind, friendly people when visiting Toulouse last year, and although the city doesn't have a whole lot to offer for tourism (one night is enough), the pleasant, laid-back atmosphere was all I needed!
…and that's all for me! While this list was by no means extensive, these are the cities which I've visited and enjoyed exploring. Perhaps I'll make another post with more cities and town on there, so we'll see!
Again, let me know what's your favorite city or town in France (besides Paris)! Take care. 🙂
— The Finicky Cynic
Check me out on Facebook! https://www.facebook.com/thefinickycynic